EDUCATION INITIATIVE
TEACHING ABOUT HUMAN RIGHTS WITH RESULTS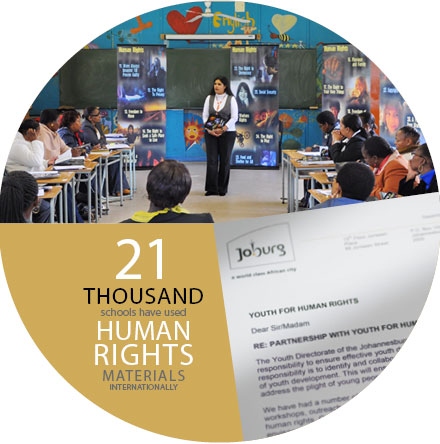 Recognizing that the promotion of human rights is of fundamental importance, the City of Johannesburg formalized its long-term collaboration with Youth for Human Rights by entering into an official partnership. Together, they conduct workshops and outreach campaigns and train city officials on human rights. The city, as well as other official bodies in South Africa, have recognized that the partnership has resulted in major positive impact on communities.
"The education of youth is what will improve this world. That is why I chose to champion your program. In Timor-Leste, Youth for Human Rights partnered with the UN Peacekeeping Mission. Not only did it provide vital help to the UN assisting them to complete their humanitarian mission, but in doing so it also reached 20% of the entire population. It is simply outstanding." —President, Australian Council for Human Rights Education
"I applaud the purpose of Youth for Human Rights, 'To teach Youth around the globe about Human Rights, thus helping them to become valuable advocates for the promotion of Tolerance and Peace.' I would strongly recommend Youth for Human Rights to educational and youth institutions and organizations." —Founder-Director, Friends of the United Nations
"Your great efforts for the sake of today's and tomorrow's generations are an example for the world."
"I thank the Church of Scientology for having developed a universal education program of human rights. Your great efforts for the sake of today's and tomorrow's generations are an example for the world." —Professor of International Relations and Energy Economy, France
"It is encouraging to find members of the Church of Scientology among families, youth groups, and other community-based organizations providing effective human rights education." —Congresswoman, United States
"By your remarkable learning tools and by your challenging student projects, Youth for Human Rights International and its Liberia Chapter are important voices in Liberia's human rights education process." —Vice President, Republic of Liberia
"I am writing to show my support for the establishment of a Youth for Human Rights Day in the City of Los Angeles. I applaud the efforts of your organization to engage Los Angeles' youth in a dialogue about the Universal Declaration of Human Rights. Thank you for the work you are doing to promote peace, tolerance and the spirit of cooperation across the globe in these times of strife and conflict." —Councilmember, 4th District, Los Angeles
1000
ORGANIZATIONS
AND GOVERNMENTS
WORLDWIDE
work with
YOUTH FOR
HUMAN
RIGHTS
"The promotion of human rights and tolerance is of fundamental importance and it is indeed very encouraging that your institution is playing a meaningful role in this regard. The information is useful in our programme called The Moral Regeneration Programme." —Premier, North West Province, Republic of South Africa
"We in the OAS wish to congratulate you and your organization for the excellent material and we look forward to further collaboration." —General Secretariat of the Organization of American States, Barbados
"Spreading the booklet What are Human Rights? in schools is a very good and important way of working. This little booklet is an effective tool for our important work." —Amnesty International District of Stockholm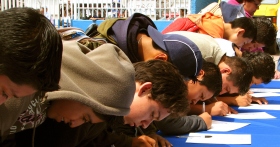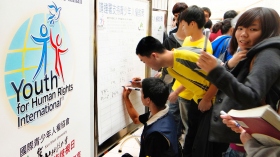 The Human Rights department of the Church of Scientology International and Youth for Human Rights International annually cosponsor a Youth Summit. Delegates from all over the world, representing dozens of nations, come together to rededicate themselves to raising awareness and mobilizing support for this most essential of causes.
The 2009 summit in Geneva, home of the United Nations human rights institutions, inspired an International Walk for Human Rights that has grown each year, now taking place in Canada, Denmark, France, Germany, The Netherlands, Russia, the United States, as well as numerous other nations. Signing of petitions encouraging governments to propagate and enforce the Universal Declaration of Human Rights has grown along with the walks, the most recent events drawing thousands of participants in more than 60 nations.
"...An approximate 96 percent decrease in the number of complaints and allegations of human rights violations by the national army."
"The Colombian National Army's Human Rights School has adopted the international Youth for Human Rights campaign. Since 2009, when we started this campaign, respect and understanding of human rights has increased with our soldiers, officers and noncommissioned officers. In fact, since we started using these campaign materials to supplement our education activity, we have seen an approximate 96 percent decrease in the number of complaints and allegations of human rights violations by the national army." —Director, Colombian National Army School of Human Rights and International Humanitarian Law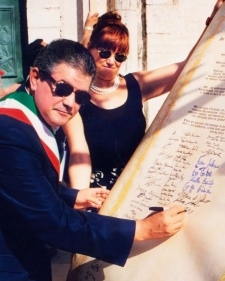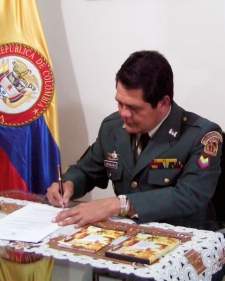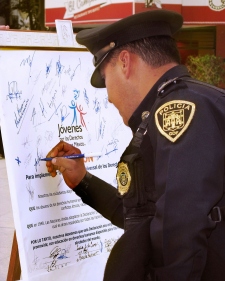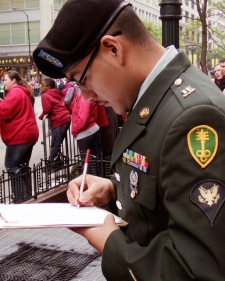 "I applaud the Church of Scientology for its Youth for Human Rights program which represents an unparalleled use of the arts in support of human rights education around the world." —Representative, University for Peace, UNESCO
YOUTH LEADERS EMERGE IN
TIMOR-LESTE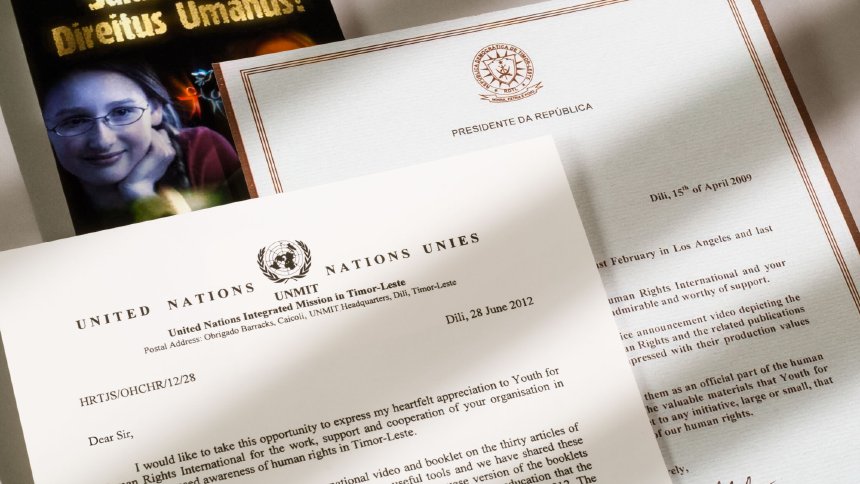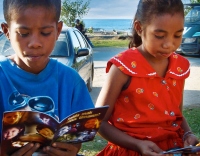 In the dozen years since Timor-Leste became the first new sovereign state in the 21st century, the region has been a flashpoint for both progress and conflict. A partnership between the UN Peacekeeping Mission and Youth for Human Rights has provided a significant step toward stability in this fragile democracy.
Distribution of human rights educational materials in the region's two official languages, Portuguese and Tetum, reached 20% of the population. Students now emerge as human rights emissaries and peacekeepers prepared to assume leadership roles as the country evolves.
"The good work undertaken by Youth for Human Rights International is admirable and worthy of support. I would be honored to suggest the inclusion of them as an official part of the human rights education programs of my country." –President of Timor-Leste
RIGHTS FOR ALL IN
DENMARK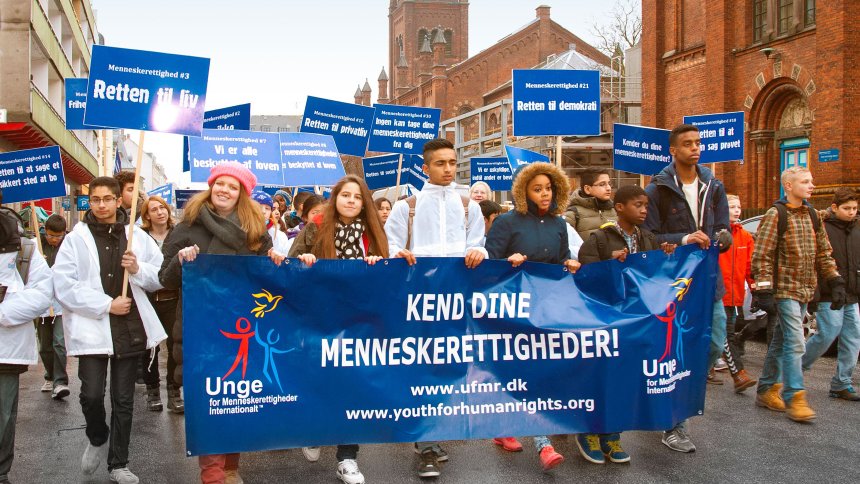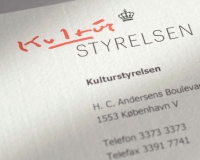 In this era of growing ethnic and religious diversity, Youth for Human Rights is a leader in human rights education in Denmark, sponsoring grassroots activities from booklet distribution to school lectures and public rallies.
For its work over the course of the last decade, Youth for Human Rights earned Danish tax office public benefit status; a City of Copenhagen grant for the group's Walk for Human Rights on the anniversary of the Universal Declaration of Human Rights; and educational materials grants from Denmark's Ministry of Culture.
"The Ministry of Culture has given Youth for Human Rights a grant… on the basis of approval by the Parliamentary Finance Committee of the Ministry of Culture's recommendation concerning the distribution of [funds] for substantial humanitarian and charitable causes." —Ministry of Culture and Resources, Denmark