KATHMANDU, NEPAL
NEPAL INAUGURATES NATIONAL NARCONON
DRUG REHABILITATION CENTER ATOP HUBBARD'S PEAK
SEPTEMBER 20, 2013
On September 20, 2013, a new drug rehabilitation center was dedicated in Kathmandu, Nepal. The opening of this new state-of-the-art center was made possible by generous financial contributions from the International Association of Scientologists.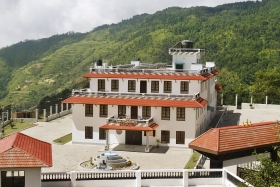 The grand opening of the new Narconon Nepal was celebrated by more than 1,000 guests and dignitaries, including the Right Honorable Parmanand Jha, Vice President of Nepal, on September 20, 2013. The four-story, 100-bed residential drug rehabilitation facility is located in the foothills of the Himalayas atop Hubbard's Peak, the summit dedicated in 2010 in honor of humanitarian L. Ron Hubbard for his development of the drug rehabilitation technology used by the Narconon program.
The Executive Director of Narconon Nepal, Basanta R. Kunwar, brought the program to the nation in 2004. As a 20-year police veteran and former Senior Superintendent of the Kathmandu Police, Mr. Kunwar was keenly aware of the relationship between drugs and crime and the urgency of addressing the nation's drug problem. Under his guidance and leadership, Narconon Nepal grew from a single building to a complex of seven facilities in Kathmandu, and the new center represents a threefold expansion.
Narconon Nepal has already rescued hundreds from the grip of addiction. The center has conducted drug prevention seminars in cooperation with the national police force across all 75 districts of the country, educating more than 650,000 on the truth about drugs and addiction. Through broad-scale media outreach, Narconon Nepal has furthered its message of hope to more than 56 million in South Asia, the UK and the Middle East.
In his address to the gathering, Mr. Kunwar said: "We are here to provide the lifesaving Narconon services to anyone who needs our help in Nepal. And we are further planning on reaching out to all of South Asia through our training services, here in this new facility, so that others in our great region can take advantage of L. Ron Hubbard's workable drug rehabilitation technology."
Officially congratulating Narconon, Vice President Parmanand Jha said: "In recent years, Narconon Nepal has provided their vital services to our people. The students who attend Narconon drug education classes graduate enlightened and aware of the truth about drugs—just as every Nepalese youth should be. In fact, with hundreds of thousands of students in our schools and universities now educated by Narconon, you are creating a generation that can defend itself against drugs and save our culture—and all while your drug rehabilitation work has forever changed the lives of former addicts and their families. And so it is that with the creation of this center, I support your efforts to make Nepal a drug-free nation."
Mr. Vishma Prasai, Assistant Inspector General, expressed his pride in Nepal providing this vital service not only to the nation but to neighboring countries as well: "Today is a proud day for Nepal, as we are not only expanding the facilities for Narconon to do its job at a much greater rate, but we are also opening the doors for this program to help all the people of South Asia. This is indeed an honor and a privilege for the Nepali people."
Dr. Bansidhar Mishra, former Minister of Health, spoke of the results of the Narconon program: "When I became the Health Minister in 2008, I was fortunate to be invited to speak at a Narconon graduation. It was there I saw with my own eyes the remarkable results of Narconon. The way they salvaged former drug users and gave them back their lives was unparalleled. Their dedicated and tireless work has helped us protect the Nepali people from the plague of drug addiction."
Mr. Devendra Sharma, who served as a judge in Nepali courts for 30 years, said: "Mr. L. Ron Hubbard developed this amazing technology, the Narconon program. Former drug addicts who were once tearing their families and communities apart are now responsible members of society, helping their families, helping their community and contributing to building a greater Nepal. This is truly an accomplishment."
_________________
For nearly 50 years, the Narconon program has offered the addicted a drug-free method to stable recovery. The program not only addresses the mental and physical debilitation precipitated by drug abuse, but also the reasons why an individual turns to drugs in the first place. The full rehabilitation program consists of drug-free withdrawal and detoxification, followed by life-skills courses through which individuals learn to solve their problems without drugs. Tens of thousands of Narconon program graduates have gone on to lead drug-free, productive lives.
Since Narconon's inception, members of the Church of Scientology have supported the organization and continue to carry on that tradition in the interest of helping to create a world without drugs. Their support has come in many forms: contributing time, funding and even establishing independent Narconon facilities. In fact, through the generous support of Scientologists, in 2001 Narconon established the premier drug rehabilitation and international training center, Narconon Arrowhead. It stands on 244 wooded acres in southeastern Oklahoma and is the world's largest facility of its kind.