INTRODUCTION
SUPPORTING GLOBAL
HUMAN RIGHTS AWARENESS
Early in his research into the human mind and spirit, author, humanitarian and Scientology Founder L. Ron Hubbard emphasized that spiritual freedom and enlightenment were all but unattainable goals to individuals denied their most fundamental human rights.
CENTRAL
to
SCIENTOLOGY BELIEFS
is a
CONVICTION
that all
HUMANKIND
is entitled to
INALIENABLE RIGHTS.
Accordingly, he wrote the Code of a Scientologist, calling on all members of the religion to dedicate themselves "to support true humanitarian endeavors in the fields of human rights." In doing so, he laid the groundwork for what has become a global movement of advocates for the human rights of all people, regardless of their social condition, ethnicity or religious affiliation.
Today, Scientologists on five continents engage in collaborative efforts with government agencies and nongovernmental organizations to bring about broad-scale awareness and implementation of the 1948 United Nations Universal Declaration of Human Rights, the world's premier human rights document.
We welcome the participation and collaboration of all who share the goal of a world where human rights are an everyday reality for all.
EDUCATING PEOPLE ACROSS THE GLOBE
ABOUT HUMAN RIGHTS
We are confronted daily with news of ethnic conflicts, inhumane practices, civil unrest and war.
The media is filled with stories of human rights violations—from domestic violence and school bullying to corruption and poverty and government-sanctioned discrimination. All the while, a majority of the world's population does not even know what human rights are and that they are entitled to them.
more
MULTIMEDIA EDUCATIONAL MATERIALS
UNITED FOR HUMAN RIGHTS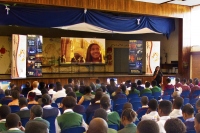 With the support of the Church of Scientology, multimedia human rights materials educate and raise awareness, reaching more than 100 million individuals worldwide each year.
The United Nations' Universal Declaration of Human Rights became the specific educational focus of the program after surveys showed that less than 10 percent of the population knew of the existence of the Declaration and even fewer could name more than one or two of the 30 basic rights articulated in the document.
more
A COMPELLING VOICE FOR HUMAN
RIGHTS, INSPIRING MILLIONS

"30 RIGHTS, 30 ADS"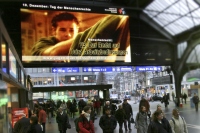 The increasing interest of young people in learning their human rights generated by the What are Human Rights? booklet led to the creation of 30 educational public service announcements (PSAs), each depicting one of the human rights laid out in the Universal Declaration.
more
AUDIOVISUAL ELEMENTS TO BRING
HUMAN RIGHTS TO LIFE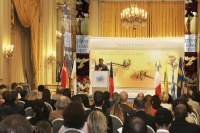 The film The Story of Human Rights is a key component of the human rights education campaign, introducing viewers of all ages to their most fundamental freedoms.
The Story of Human Rights is a striking 10-minute documentary defining one of the world's most misunderstood subjects.
more
ONLINE EDUCATION RESOURCE CENTER
INTERACTIVE WEBSITE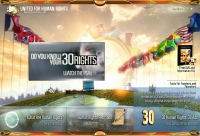 Both United for Human Rights and Youth for Human Rights International maintain interactive websites with the full array of resources available in 17 languages.
All human rights booklets, PSAs and The Story of Human Rights are available to download or order online. The websites feature an interactive virtual educational system for anyone teaching or learning basic human rights.
more
HUMAN RIGHTS EDUCATION
ENCIRCLING THE GLOBE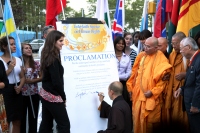 A basic premise of human rights is that they are for everyone. Thus, regardless of economic or cultural background, any individual, by participating in these programs, can galvanize popular support for human rights and human rights education in their own community, city or country.
more
BRINGING SOLUTIONS
TO THE MILLIONS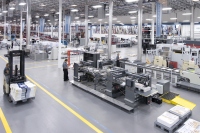 The Church of Scientology International Dissemination and Distribution Center in Los Angeles, California, stands at the heart of the global humanitarian initiatives supported by Churches of Scientology and Scientologists. In addition to generating dissemination materials for the more than 10,000 Scientology Churches, Missions and affiliated groups worldwide, the center produces educational materials for all Church-sponsored humanitarian programs.
more
PARTNERS AND LEADERS
SUPPORT THE PROGRAM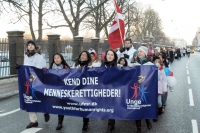 Achieving global implementation of human rights requires widespread human rights education.
To bring it about, for more than 40 years Churches of Scientology and their members have initiated and supported programs that effectively raise popular awareness of human rights and teach them to youth and adults.
more