ERADICATING DRUG ABUSE
THE TRUTH ABOUT DRUGS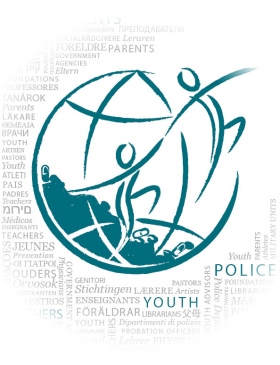 A global problem, drug abuse demands a global solution.
In response, the Church of Scientology and Scientologists sponsor the Truth About Drugs program, one of the world's largest nongovernmental drug education and prevention initiatives. To popularize drug-free living, a broad spectrum of fact-filled, high-impact educational materials are distributed by the millions by the nonprofit, public benefit Foundation for a Drug-Free World to schools, community groups and governmental institutions worldwide. Drawing on decades of experience in drug education and prevention, the Truth About Drugs program effectively communicates the reality of drug abuse individually and through mass communication.
Because young people presented with the unvarnished facts about what drugs can do are far more likely to reject them on their own, Truth About Drugs is in high demand as an educational tool in schools, law enforcement units and community-based settings. More than 62 million educational booklets have been distributed, and public service announcements have reached more than 260 million viewers in 123 countries.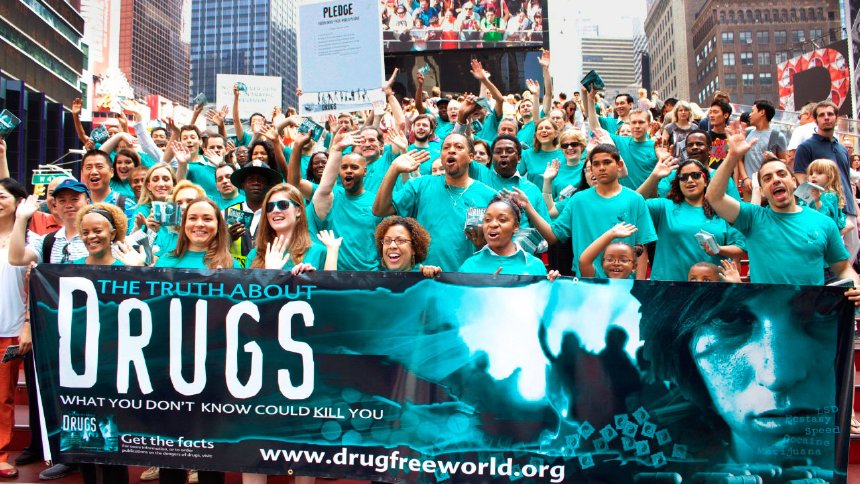 LAW & EDUCATION
STRIKING A BALANCE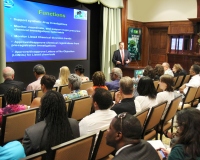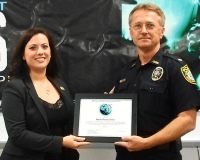 Throughout the United States, in communities large and small, the effectiveness of the Truth About Drugs program is recognized by law enforcement personnel at all levels as part of the solution to drugs and crime.
In 2011 in Los Angeles, home of the largest sheriff's department in the nation, the Los Angeles County Sheriff wrote, "The Truth About Drugs education program that the Church [of Scientology] supports means everything to the safety of our schools and neighborhoods. It is a tremendously successful program worldwide, and particularly needed. This is why we have trained a corps of our own officers in the use of this unparalleled program. I want to thank you for everything you do in helping me do my job because today crime in Los Angeles is at its lowest in 40 years."
Similarly, the program is a vital part of law enforcement's drug education efforts throughout New York City, where one New York Police Department officer wrote that the Foundation for a Drug-Free World "provides a wonderful service in guiding children in the right direction to turn away from drugs." Another wrote that the Foundation is "doing a colossal service to all communities across New York City and we look forward to a continued partnership in educating our children on the dangers of drugs."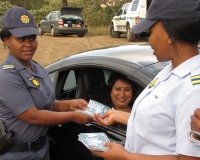 Another law enforcement official familiar with the workability of the program is a School Resource Officer in the Ocala, Florida, Police Department. Working with high school students, he said, "Any parent that has a problem with their kids getting mixed up in drugs can come to me and I will get them into the program."
An officer in the Ocala Police Department's Criminal Investigation Bureau described the program as "fantastic" and the feedback from it as "overwhelming and positive."
A vital part of the Foundation for a Drug-Free World mission is to continuously provide new and updated materials to users of the Truth About Drugs program. For example, the Foundation is making available materials to address the issue of new and heavily abused synthetic drugs. It collaborates with the U.S. Drug Enforcement Administration to make the information known, such as a forum held in the Church of Scientology International National Affairs Office in Washington, D.C. A Special Agent from the Synthetic Drugs and Chemicals Section of the DEA's Office of Diversion Control briefed drug prevention and rehabilitation specialists from a wide range of private and governmental organizations about the law enforcement approach to these drugs, and Drug-Free World representatives spoke about the education aspect.
800
POLICE
government
AND
COMMUNITY
PARTNERS
OR ALLIANCES
"The materials were introduced to one of our local schools with over 100 students and teachers attending the Truth About Drugs program. The program materials and DVD had such an astonishing effect on the participants, they requested more time to view the program. The experience had such a profound effect the police department has been asked by local schools in the community to offer the Drug-Free World program." —Police Department, Texas, USA
"I have used the Truth About Drugs educational pack in an inner city Birmingham secondary school. I have done many drug talks to a variety of people across all different educational establishments but have never had a product so informative." —Police Department, Birmingham, UK
"Through the sharing of your knowledge and expertise, Foundation for a Drug-Free World has played a vital role in the success of DEA's Demand Reduction and Community Outreach program." —Special Agent, DEA, USA
"We have been fighting a drug problem for some years in these communities and these booklets go a long way toward raising awareness of drugs and their effects among people and particularly youth." —Police Department, Johannesburg, South Africa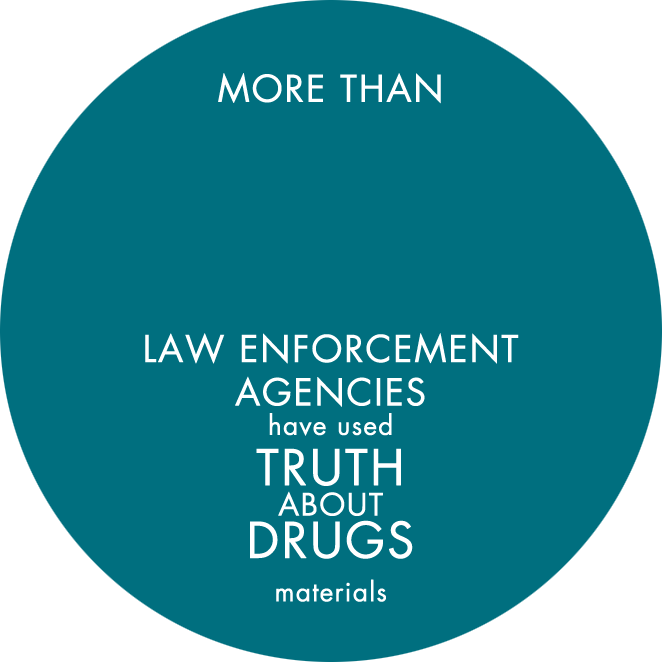 SAFE COMMUNITIES
AIDING THE EFFORTS OF LAW ENFORCEMENT AROUND THE WORLD
"As a patrol officer, you know what's driving crime," said one law enforcement department head. Describing the common denominator of drugs in most crimes, he reflected the knowledge of police forces worldwide who often feel they are fighting an unwinnable war against drugs.
Widespread awareness of the causal relationship between drugs and crime has brought law enforcement agencies by the hundreds to the Foundation for a Drug-Free World and its Truth About Drugs program.
School Resource Officers and others involved in drug education find the materials fit their needs—comprehensive, easy to administer, interesting to young people and adults, and readily available. And they work. The most common response is that young people connect with them and their direct, no-nonsense images of youth talking to youth. One law enforcement user of the program wrote that the materials bring about "sensible awareness" of drugs in a non-accusatory manner.
"... great assistance to professionalize the workshops on drug prevention given to schools in Mexico City."
"I would like to express my sincere gratitude for the course The Truth About Drugs delivered to members of the Coordination of School Security Programs which has been of great assistance to professionalize the workshops on drug prevention given to schools in Mexico City. I also want to thank you for the material you have provided that is benefiting the people we are reaching through these workshops." —Underdirector, School Safety Unit, Ministry of Public Security, Mexico City